The 2017 NHSW Design Challenge
The 2017 NHSW Design Challenge asked participants to design and build Doll Houses that are aesthetically pleasing and relevant to all demographics. The Doll Houses were raffled off during the 1st Annual Home Matters Dinner & Benefit held on March 16, 2017.
2017 NHSW DESIGN CHALLENGE PARTICIPANTS
Crystal Tobin Chandler
Kris Weeks & Brendan O'Rourke of The Slam Collaborative
Ron Quicquaro, Kimado Simpson, Ryan Ducki, Steve Neile and Gil Pinho of Studio Q Architecture
Kemp Morhardt, Karen Glass, Reaghan Schicker, Paul Baldinger and Gregg Bergmiller of The Slam Collaborative
Sean Namgoong of Pickard Chilton
Shelley Pass, Derek Noble, Ariana Baird, Lindsay Comeaux Schnarr of Steffian Bradley Architects and Legere Woodworking (Legere Group Ltd)
Tom Arcari, Jeff Jahnke, Carson Collier, Michael Lane, Cody Sanborn, Kyle Baron of Quisenberry Arcari Architects
To view more pictures of the participant's work and progress click here. To view photos from the NHSW 1st Annual Home Matters Dinner & Benefit – the event that showcased the 2017 Design Challenge Doll Houses – click here.
Congratulations to the 2017 People's Choice award winner, Crystal Tobin Chandler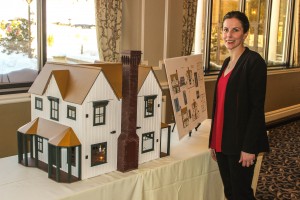 Featured in the News
*The deadline to participate in the 2017 NHSW Design Challenge has passed. Please contact Maybeth Morales-Davis for more information or to reserve your spot for 2018 NHSW Design Challenge.